neoprene grip for swmming pool handrails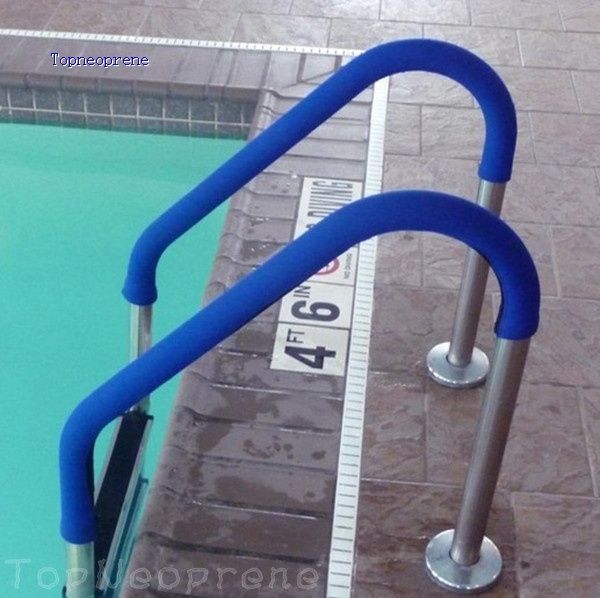 neoprene grip for swmming pool handrails,these soft neoprene handrail covers provide a secure grip for entering and exiting the pool. They stay much cooler than bare rails to prevent hands from burning from the intense sun on metal. No need to remove your handrail either; simply zip in place.
Prevent slips and burns with these royal blue handrail grips. Handrails can get slippery from oils and hot from the intense sunlight.



Product Features:

* Gugged zipper zip cover in place
* Helps prevent slippery handrails
* Reduce liability risk from falling
* Eliminates burning hands on hot handrails
* Soft, comfortable , easy to hold onto
* Dimensions: 5 " wide in a varity of lengths
*
4 foot grip fits 1.625 in. diameter rails (can be stretched to fit up to 1.9 in. diameter)
* 6 foot, 8 foot, 10 foot grips fit 1.9 in. diameter (standard) rails

Neoprene grip for swimming pool handrails
Cusotm neoprene cover grip for pool handrails
Poll handrails cover skin grip neoprene


Detailed information:

1. Material: 2.0-4.0 mm eco-friendly neoprene ( wetsuit material)
2. Color: Pantone color is available
4. Style: designer. Great OEM service offered.
5. Printing logo: silk screen printing, heat transfer printing, sublimation and offset printing
6. Sewing stitching: blind stitching, flat-lock, over-lock, zig-zag
7. Product qualification: CPSIA, Prop Lead65/3p/6p/cadmium/formaldehyde/AZO,etc, Complying both European and American standards.
8. Packing: customized

9. Delivery time: 15-25 days after samples and deposit confirmed
Why Choose us:

1. Professional OEM manufacturer in the field of neoprene products for years.

2.Factory direct, more competitive price with stable quality.
3.

Skillful workers and manage team ensuring quality of every order, our monthly output is up to 60k pcs products.